Mirandus announced the release of their new NFTs – Ships and Docks. These new assets will allow users to create and trade ships and docks in a secure manner on the Gala Chain network. This opens up a whole new world of possibilities for users looking to create and trade maritime-themed assets.
The salty air, the wind filling the sails, and the calls of seabirds and gulls are all known to mariners on the open oceans, such as those who sailed to Mirandus on the first excursion to the mysterious new continent.
Although not all ships made it through the stormy voyage and the sea, many did. Those who arrived on Mirandus' shores elected to stay, as well as their vessels. The shift to the new continent opened up even more possibilities for trade and interaction among its people and coast communities, allowing those with sailing ships to explore numerous surrounding islands, secret bays, and inlets that offered a treasure trove of Materium for anyone who could reach them.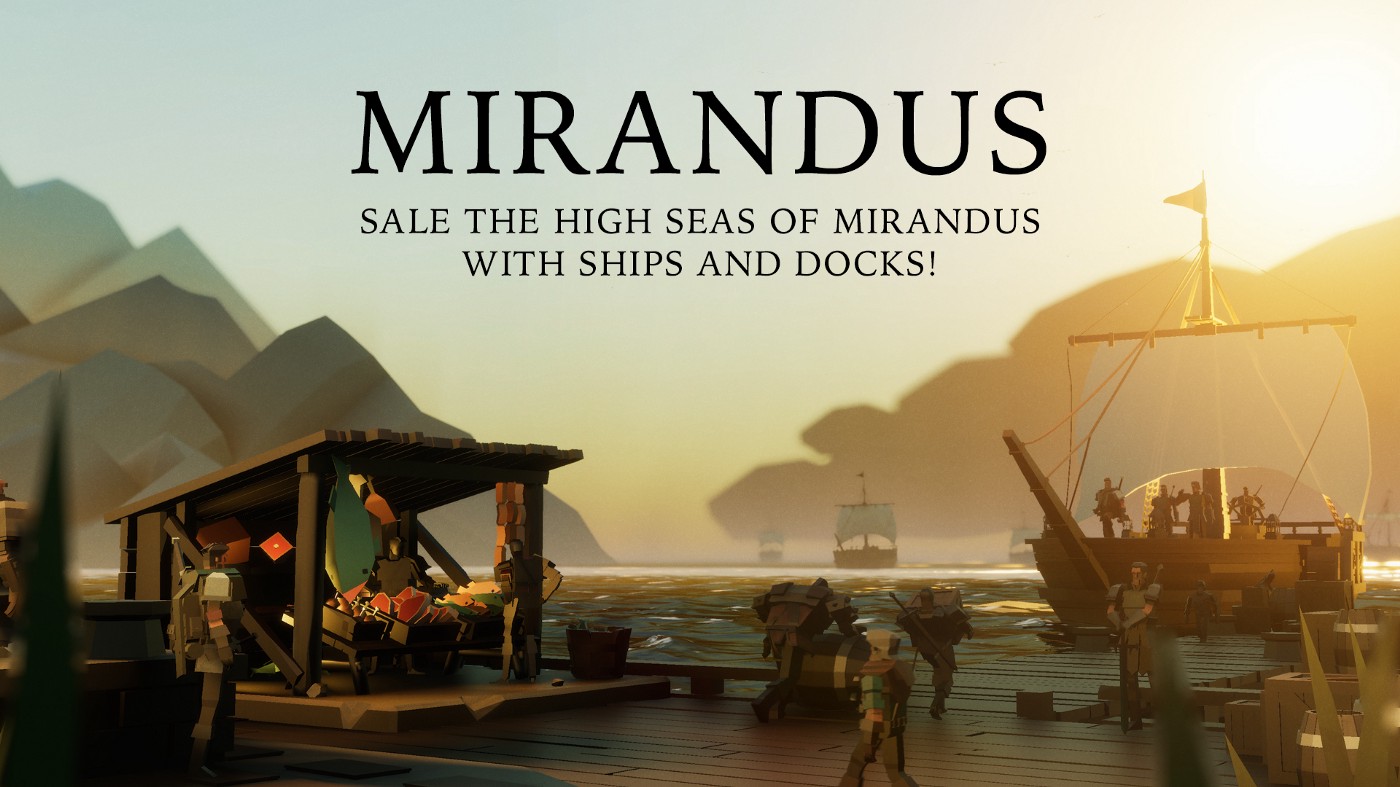 We're delighted to announce the start of our Mirandus sale, which includes access to these seabound secrets. Purchasing ships and docks for personal exploration of Mirandus was first introduced at Galaverse. Both are highly desired, with one being sought after for expeditions and the other as a haven for vessels to park when they return.
Purchase a ship and become the captain of your own vessel, then set sail for adventure! If being captain isn't your thing, take on the job of a harbormaster and acquire piers and docks for ships to dock their weary crews. This potential is largely untapped, and there's nothing to prevent a forward-thinking adventurer from taking on the responsibilities of both captain and harbormaster not just for their own vessels, but also as a landing area for others.

Introducing Ships to the Mirandus World
A ship, like a caravan, allows you to travel over great distances at high speeds while also providing range and allowing your companions to join you on your journey. It also serves as a depository for goods from your adventure.
There are six different boats available for purchase, from the tiny Picard and Crayer to the larger and faster Carrack and Caravel. When they see your ship proudly docked and its sails framed against the horizon, you'll be the envy of others in Mirandus.
Choose wisely when selecting a ship, since each new category is swifter, can accommodate more people and goods, and has a greater range of exploration potential.
You don't have to go on adventures alone. Depending on the size of the ship, it may accommodate a certain number of adventurers. There's power in numbers, especially if you're sailing for a particularly dangerous island or a forgotten hidden cove. Furthermore, some Exemplars will come in quite handy on your journey, including the Seafarer and Cartographer, among others.
The Newest Deed Type in Mirandus – Docks
Docks are where ships may be readily parked when not in use, regardless of whether you own one or not. Because each dock can accommodate more than one ship, you may charge others to moor their boats there.
A small dock may contain only a few little boats, but a huge Wharf can accommodate a fleet of boats of multiple sizes, at a cost of course.
Four different docks are accessible, from a little dock that can only accommodate smaller vessels to the vast Wharf, one of Mirandus' major ports with numerous small and big berths for small and large ships.
Size categories are used to determine how much space a ship takes up in a dock. Some docks may only accommodate tiny vessels, while others can accommodate many ships of various sizes.
Choose a dock size and arrangement that meets your demands as well as those of your friends, then make your selection carefully. Smaller ships like the Picard, Crayer, and Hoy can only accommodate a modest dock, while quays, piers, and wharves can also accommodate larger boats. The bigger the dock, the more vessels may moor there.
All New Seabound Adventures
Mirandus is home to a wealth of mysteries, but so are the surrounding seas, hidden bays, and unknown islands. They're brimming with Materium and other riches, eager for brave people to find them.
For those with ships, these mysteries will no longer be out of reach, and you may happily welcome them when they return and pay their docking fee for those with docks.
The Ships and Docks await you Adventurer!
Various rarities of ships and docks will be available in the Mirandus store. They will be limited in supply and sold price-increasing tiers, so do not hesitate, and be ready to set sail!
The Ships and Docks in Mirandus are a new way to adventure, providing access to many new areas that were once off-limits. With the right ship, you can explore the world like never before and bring back treasures to share with others. Get your ship today and set sail for adventure!